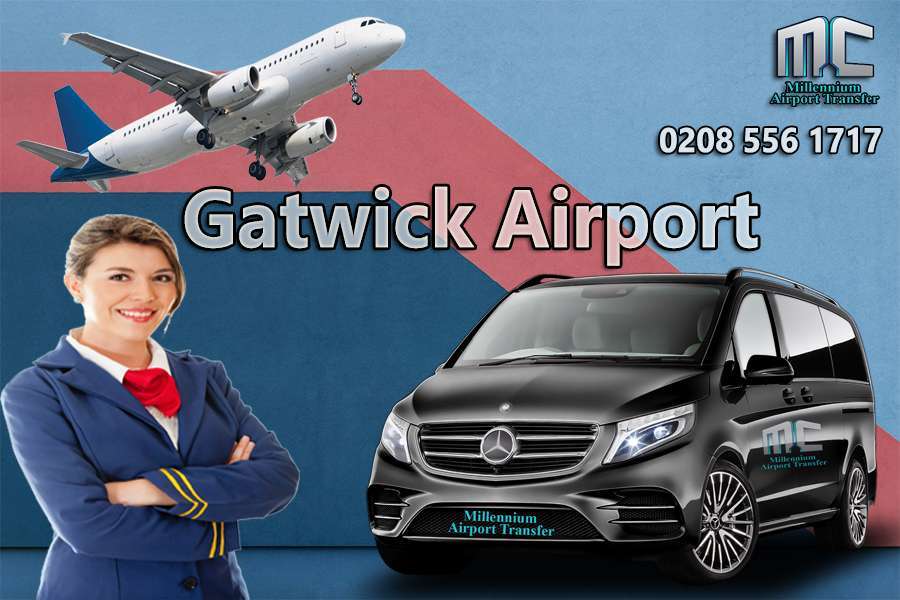 MILLENIUM CARS: DOOR TO DOOR GATWICK AIRPORT TAXI SERVICE
Gatwick Airport Expect to experience a journey unlike any other with Millennium Cars, your reliable partner for first-rate and reasonably priced Gatwick Airport taxi service. We are not merely another cab company operating in London. However, we serve as your gateway for relaxing, reliable and reasonably priced vacation.
Gatwick Airport, located in proximity to central London, consists of two major terminals, North and South. These terminals serve as the central hubs for travelers, providing essential amenities, including shops and dining options. The airport's layout is efficiently organized, with clear signage guiding passengers throughout their journey, ensuring a straightforward and hassle-free experience. Despite its bustling nature, Gatwick Airport maintains a strong commitment to safety and security. Trained and friendly staff are readily available to assist travelers, offering peace of mind during their visit.
When it comes to reaching Gatwick Airport, Millennium Cars is here to make your journey even more convenient. As you plan your travel to or from London, Gatwick Airport's professional and well-structured facilities make it an ideal starting or ending point for your journey. The well-maintained terminals and well-marked layout ensure that your airport experience is smooth and convenient, allowing you to focus on the excitement of your travels.
Our dedicated service ensures that you arrive at the airport comfortably and on time. With our reliable transportation, you can rest assured that your airport experience will be stress-free and enjoyable. So, whether you're starting a new adventure or returning home, count on our cabs at Gatwick Airport.
QUICK AND RELIABLE TAXIS TO GATWICK AIRPORT
Gatwick Airport At Millennium Cars, we give you the greatest travel experience imaginable. With quick booking, transparent pricing, and a wide range of fleet options, Gatwick Airport taxi service is undeniably reliable. Your journey is more than just a ride when you choose Millennium Cars; it's a quick and convenient experience.
You may anticipate the following key features while selecting Millennium Cars as your Gatwick Airport taxi service:
Easy Online Booking
24/7 service 365 availability
Fixed Rates & Instant Quotes
Diverse fleet
Real time tracking
Local expertise
Millennium Cars: cheap minicabs to Gatwick Airport!
Gatwick Airport There are plethora of hotels and restaurants near Gatwick Airport offering choices for every traveler. From luxury to budget, from quick meals to fine dining, options are plentiful. Using cabs or a taxi, you can easily reach these places. Enjoy a comfortable stay and delicious food during your travels near Gatwick Airport.
First, let's talk about the hotels. There are plenty of them, with different prices and styles. Some are right at the airport, so you can walk there. Others are a short ride away, and you can book our cabs at Gatwick Airport to take you there. These hotels are comfortable and make your stay relaxing.
On top the list, the hotels that must be mentioned are below:
Sofitel London Gatwick: A luxury hotel with elegant rooms and top-notch amenities, conveniently located within the airport.
Gatwick Lodge: A budget-friendly option offering simple and comfortable accommodations for travelers on a tight budget.
Bloc Hotel London Gatwick Airport: A modern and stylish choice, perfect for travelers seeking contemporary design and comfort.
Hampton by Hilton London Gatwick Airport: A well-liked hotel providing a comfortable stay and complimentary hot breakfast, just minutes away from the airport.
In addition to the hotels, you'll find a variety of options, from fast food to fancy dining. Some are in the airport itself, so you can grab a quick bite before your flight. Others are in the nearby hotels. So, you won't go hungry while you're waiting for your taxi from Gatwick Airport.
So, in conclusion, Gatwick Airport has you covered when it comes to hotels and restaurants. Whether you're looking for a place to stay or a meal to enjoy, there are plenty of options nearby. And with our taxis at Gatwick Airport readily available, your journey to and from the airport is seamless.
Millennium Cars: cheap minicabs to Gatwick Airport!
In sum it up, when it comes to reliable and efficient transportation to or from Gatwick Airport, look no further than Millennium Cars. Our Gatwick Airport Taxi Service is tailored to provide a seamless and hassle-free experience for travelers. We specialize in providing minicabs to Gatwick Airport, ensuring that your journey starts or ends with convenience and comfort. With a well-organized layout and two major terminals, Gatwick Airport is made even more accessible with our dedicated services. Our commitment to safety and professional staff ensures that your airport experience is worry-free. Millennium Cars takes pride in being your trusted partner in making your travels to or from Gatwick Airport as smooth as possible. So, whether you're embarking on a new adventure or returning home, let Millennium Cars be your go-to choice for dependable Gatwick Airport transfers.